Come Over to the Dark Side...
Weary of pedantic, saccharine personality quizzes, Franny takes a trip to the dark side...let's take a walk in the moonlit fog, shall we?
---
Which Slytherin Are YOU?

You are Lucius Malfoy. What a guy - aristocratic, clever and mean because it's purely entertaining. So, what are you going to do tonight, Lucius? The same thing you do every night? ... Yes? Pity. Those pathetic Muggles will never see you coming...

Take this quiz!

---
Who's Your Hidden Villain?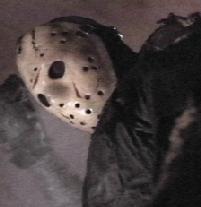 Jason Voorhees from Friday the 13th
Oh dear, you have some worrying psychopathic tendencies. Did someone do you wrong when you were young? Perhaps you had a nasty incident in a paddling pool or other aquatic environment? Whatever, why are you still looking for revenge? It's probably time to let it go. Go on, put down the machete and call a councillor. You have some serious issues that need addressing and it's never too late to sort them out. Okay so you get a kick out of frightening people, but take off the hockey mask and try looking them in eye, face to face. You might be surprised that a "non-murderous" approach to problem solving actually works!
Take this test.
---
Which Batman Baddie are YOU?

You're TWOFACE. Sometimes you're an angel, sometimes you're a DEVIL. Either way, you're mentally warped, greedy, and often argue with yourself. Perhaps you should step in front of a mirror and ask yourself who's really there...
Which Batman Villain Are You Most Like?

---
Fear me, mere mortals!!! Mwa ha ha! What do you think of my results?
Also, a challenge: "I tell you things, you tell me things. Not about this case, though. About yourself. Quid pro quo. Yes or no?" Tell me about your inner villain(s), my blogging friends...